Artsonia! Precure!
is a arts and crafts-themed series created by MaeManuel1.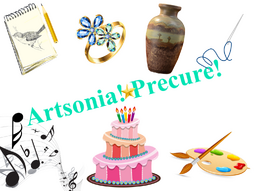 Characters
Edit
Cure Draw
Cure Sculpt
Cure Paint
Cure Music
Cure Jewelry
Cure Sew
Cure Bake
Inspir
Create
Make
Villains
Edit
King Blank
Eraser
Inky
Blank Monsters
Art Pendents
Magical Pencils
Magical Sharpeners
Mystic Paintbrushes
Palette Shields
Sculpt Bombs
Jewelry Wands
Ad blocker interference detected!
Wikia is a free-to-use site that makes money from advertising. We have a modified experience for viewers using ad blockers

Wikia is not accessible if you've made further modifications. Remove the custom ad blocker rule(s) and the page will load as expected.